Guide to Making Money with Adult Livecam Sessions
The adult industry is a gift that keeps on giving. It presents massive opportunities to adult entertainers, but only those who know what it takes to tap into the novel opportunities offered by this industry. From selling used panties, sexy photos, on-demand videos to livecam shows, this niche has limitless possibilities to make vast amounts of money.
You might be surprised to know that adult entertainment compares exceptionally well with social media and streaming sites as far as the stability of their traffic is concerned. The adult industry is undoubtedly taking all the other sectors by storm.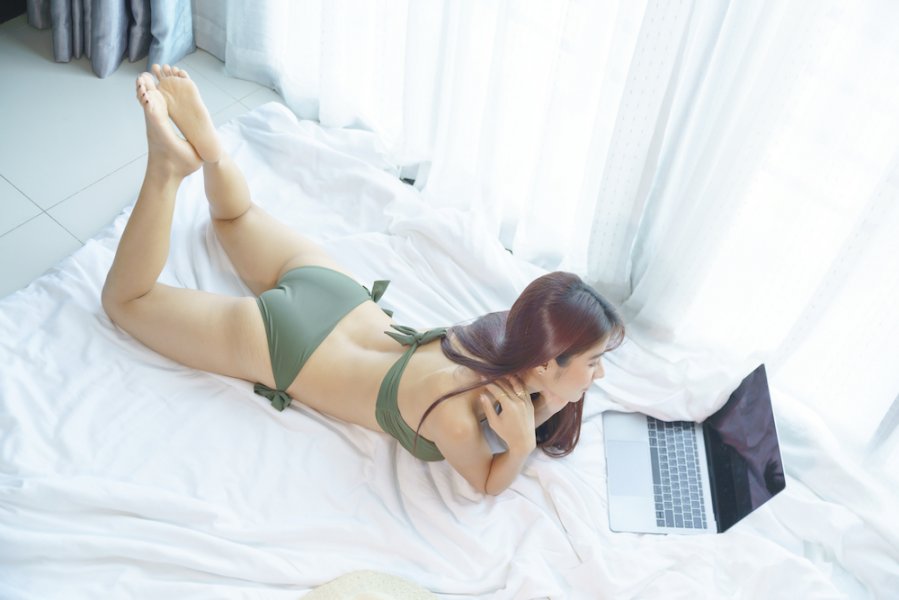 The idea of making money online from producing adult content is not new. People have been selling adult content since the early days of the internet. As mentioned earlier, the opportunities offered in this industry are vast.
If you are just getting started in the adult entertainment niche, have you ever considered the possibility of making money through cam girl modeling? If not, it is high time you thought about it. Cam modeling is simple to do. All you need is a webcam, stable internet, and of course, a bit of hard work.
A Closer Look at Livecam Modeling A cam girl is a video performer who uses a webcam or a camera to display erotic acts such as sexy dancing moves in real-time in exchange for money. These professionals charge for their live performances. In other instances, they might also sell past recordings. The good thing about these performances is that the girl has the discretion to determine the erotic nature of their content. Thus, while some opt to display premium sexy content, others choose to remain clothed and entertain their viewers in other ways, such as engaging in sexual conversations with their fans.
Cam sites are second only to porn in the adult industry revenue charts. Thus, if you are not into acting porn, then you should consider being a webcam model. Studies reveal that the webcam industry could be valued at $10.06 billion by 2025. While some ladies are already enjoying making it big in this industry, some aren't fully aware of what it is all about. That said, this guide takes a closer look at how cam modeling works, and what cam models need to do to get their share in this billion-dollar industry.
How Cam Girl Modeling Works In the past, key players in the adult entertainment industry made massive amounts of money through anonymous dirt talk. The advent of technology, however, kept on offering better options. From dirty phone dirty, men can now watch and talk dirty simultaneously, thanks to webcam modeling. Livecam modeling essentially gives men a platform to engage in erotic conversations and see sensual moves. Fundamentally, here is an overview of how cam girl modeling works:
Models are first required to sign up with a livecam site and create a model profile. A cam girl profile is all you need to ignite some interest in visitors who are out to see some erotic moves, engage in dirty talk, or both. People interested in dirty talk and sexy moves visit an adult cam site to watch live cam shows. Cam girls entertain their audience using a combination of a real-time video feed, audio communication, and live chat sessions using the keyboard.
Visitors, mostly men, use their webcam or smartphone cameras to interact with the cam model via the live video feed. In most instances, these visitors are also accorded a variety of communication options such as the mic or the keyboard to engage the cam girls in real-time.
Is Camming Worth It? So, if you have your eyes set on becoming a cam girl, or you are somewhat on the fence about this, you might probably be looking for reasons that will convince you to give this 'lucrative' career a try. Otherwise, you might also be looking for potential drawbacks that might make you reconsider. Having said that, here are some pros and cons of becoming a career cam model.
Pros of Cam Modeling You can make money: This one is straightforward, and it is undoubtedly the first thing that comes to mind when you think about becoming a cam girl. The possibility of making lots of money, even out-earning top professionals such as lawyers and accountants, is a standout benefit offered by livecam shows. While it is almost impossible to have a precise estimate of your projected earnings, you definitely will be successful if you are good at it.
Offers flexible working terms: Unlike a nine to five job, one of the most significant benefits offered by camming is the ability to be in absolute control over your working hours. If you are in charge of when and how you work, and you are making a lot more money, it makes a lot of sense to quit your day job and take up camming.
Allows you to explore your sexuality: As far as sexual expression goes, camming can be incredibly beneficial. Most importantly, camming allows you to do what you have always wanted to, but safely. The fact that you might also make some money while exploring your sexual fantasies goes a long way in this rewarding career.
No limitations: As far as life goes, you might be unable to work on some jobs due to a disability or other circumstances. Working as a cam girl, however, is not subject to any limitations. For instance, if you are unable to work for an extended period because of some shortfalls on your part, then becoming a cam girl makes lots of sense.
You are pampered with gifts and attention: Being a cam girl comes with many benefits. If you have multiple fans, then you should be ready to have gift cards, extra money, and lavish gifts come your way. At times, all you need to do is to ask for them, and any happy customer will be more than glad to honor your request.
It is a low-risk profession: While privacy can be a significant concern as far as this career goes, camming is mainly a low-risk profession. Users are not allowed to see your personal information. Notwithstanding, you might selectively bar viewers from some areas from viewing your content so that your confidentiality is not compromised in any way. Physical contact is not allowed: Being a cam model means that you do not have to meet your customers. Unlike porn, livecam modeling is safe. Therefore, you do not have to worry about the downsides of physical contact, such as contracting STDs or getting pregnant.
Cons of Beings a Cam Model Scams and harassment: Unfortunately, cam girls should brace themselves for scams and harassments. But the good thing is that you can always protect yourself from these atrocities.
Stigma: Working as a cam model comes with some stigma. This explains why most cam girls have to lie about their work-life, and this often comes with some emotional burden.
You will have some slow days: Demand fluctuations are common to any business, camming included. However, you should not be discouraged by slow days. There will always be many amazing days ahead. All you need to do is to prepare for the quiet days. You need to be patient: Becoming a cam girl is not some "get rich quick" scheme. Getting there will undoubtedly require some hard work and patience.
You are now aware of some of the pros and cons of becoming a cam model. However, you need to weigh up the pros and cons and see whether this career adds any value to your life. Despite the negatives, most cam girls see this job as the best thing that happened to their lives. Agreeably, camming is a worthy career. How to Make Money from Webcam Modeling If you are convinced that webcam modeling is the right job for you, then you need to start by getting the foundations in place. You also need to have a detailed plan, which should factor in the high levels of competition from other camming models. That said, here are some steps any newbie camgirl ought to follow to improve their chances of making it big in the adult entertainment industry.
1. Choose a Trusted Cam Site The first step to take as far as being a cam model is to choose a suitable cam site. While you might not be a position to outrightly determine the best platform for you in your early days, you have to settle on a website that you feel works for you.
There are plenty of platforms to choose from, so you might be required to do some research before finding the best option for you. You should start by looking at its reputation, the number of members, the nature of interactions allowed, payouts, and whether it fits your schedule. Once you settle on a trusted site, all you need is to create an account, which should be straightforward.
2. Invest in the Right Equipment You need to invest in the right equipment. Quality equipment goes a long way in making you look professional, and thus more appealing to viewers. While you do not have to invest in studio-quality equipment, you need something better than average. For starters, you need to invest in the following list of items.
A HD camera: While some webcams may serve you exceptionally well, the days of limiting yourself to a webcam might be long gone. Instead, invest in a camera that films at 720p or more. However, this should preferably be an HD camera (1080p). Quality external microphone: You need to have a good microphone to ensure that everything you say is clear. High-Speed internet: The last thing a client wants is a buffering video. Thus, you undoubtedly need a dependable internet connection as far as this business goes. Notwithstanding, you also need to work on your lighting, backdrop setups, and always have your props close by. The nature of this investment makes all the difference between successful cam models and the less successful ones.
3. Have a Schedule If you are serious about making money from camming, then you need to have a schedule. Sticking to your schedule, in turn, will help your customers know when to expect you. Even better, it might also encourage them to form groups, and if possible, request private sessions.
If you are just starting, you are encouraged to remain online for more extended periods. Staying online for more hours will improve your chances of getting more opportunities. A six or eight-hour schedule can be just fine. Most importantly, your schedule should cover times when visitors in your target areas come online.
4. Capitalize on Male Fantasies There is a good reason why the consumption of adult content is shifting to livecam sites. Most viewers love fantasies. Therefore, any cam girl should endeavor to uncover the real-world fantasies of their audience. At times, encourage your viewers to take advantage of paid platforms for personalized and longer sessions.
5. Market Yourself If you have your account created, equipment set up, and a schedule in place, you need to start to think about possible ways of marketing yourself. You can utilize a variety of resources to help you get ahead of the competition out there. For instance, you might try sharing some of your live broadcasts on adult sites, use multiple livecam sites, and tap into the power of social media. If you are clever with your marketing efforts, you will get a constant stream of followers and enough money flowing to your account.
Top Webcam Modeling Tips You are bound to face some slow times as a cam girl. This could be during your early days as a cam girl or later into your career. Irrespective of when it happens, here are some tips on how to avoid slower days and improve your earnings.
Make sure you love camming: Most people do not have the luxury of working at what they like. But if you are thinking about being a cam model, see to it that you love what you do.
Create the best impression: It is essential to take care of the impact you make. And make sure it is the best one. Think of your career as a business and make your personality shine at all times. Your customers want to see your best version always. Keep yourself in shape: While beauty is not a qualification to being a cam girl, you must strive to keep yourself in shape. Elegance and being curvy will assuredly have many men coming your way.
Use more websites: Using more cam sites goes a long way in improving your chances of making money online. While joining a new site can be tasking, there is nothing to lose. And if things go well, you can always switch your main site.
Upload free videos: Most cam sites allow models to post free videos. Free videos will improve your chances of getting more likes and subscriptions. Sharing free videos often goes a long way in growing your audience, even during slow sessions. Get social: Gone are the days where word of mouth marketing was essential for success. As such, like other successful webcam models, see to it that you get involved in social media and engage your audience often.
Join a cam community: These communities are essentially groups or forums where cam girls get to share their experiences and ideas. While no here can address all your concerns, you should take the initiative to learn as much as you can from others.
Alternative Ways of Making Money as a Cam Girl Besides modeling, there is no shortage of options for cam girls to make money online. The good thing about cam modeling is that you can capitalize on your followership on the cam site or on social media. Here is a list of additional opportunities that exist for cam girls online:
Selling used panties online Selling sexy photos and videos Ideally, livecam sites offer various innovative ways of ensuring cam girls grow their bottom line. All you need to do as a cam girl is to get creative.
Final Thoughts Being a cam girl model offers comes with a unique experience. The flexibility and prospects involved in this adult entertainment business entice many women to try their luck in this field. While it a known fact that this industry is super competitive, even newbies have a real chance of being among the top earners.
Being a cam girl is like any other profession; it has its unique pros and cons. As far as the challenges are concerned, you need to be thick-skinned and focused.
At this point, you practically have an idea of what it takes to be a cam girl. So, if you have your sights set on making a five-figure income in this industry, you have all it takes to make it. Commit the tips shared on this guide to memory, and you will undoubtedly start earning tons of cash in no time.